Whether you're looking for something to serve along with breakfast, lunch or dinner, we're sure to have something for you near Dundee, IL.
Old-fashion cake donuts and hand-cut raised donut items Real hand-made Danishes, Kringles and Coffee-cakes, turnovers, muffins and more!
Herb's Bakery Cakes Elgin, IL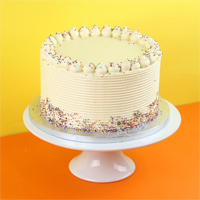 Dundee IL Cakes
Birthdays, anniversaries, weddings, baby showers, bridal showers and more!
What a wonderful time to have a special cake for that special someone. Stop by and look at our albums of cakes we've created.
Browse through the cake gallery featured here on our website to get an idea of what we can do!
(Please note: many custom decorated cakes require a 2-week notice, please call for more information)
---

Dundee IL Tortes
Are you looking for just a "little" something sweet to add to dinner or a special party?
We offer our own "Dessert Tortes" or with enough notice can create the classic tortes.
Our Dessert Torte line features favorites such as: Strawberry Crunch, Cappuccino, Chocolate Ribbon and more! The classics start with our own German Chocolate, Black Forest and others. All created here, fresh!
---

Dundee IL Breads
How can you resist fresh bakery bread? Our bakers love bread and love to make it!
From the standard Old-Fashion White Bread, Whole Grain Whole Wheat, European-Style Muselix, 6-Grain, Onion Rye, & Sauerkraut Rye, to our own Bacon- Cheddar, (our employees favorite!)
Make sure to come in on Wednesday and Saturday for our crusty Vienna Bread and Hard Rolls.  Wednesday is also our "Bread Sale Day".
---

Dundee IL Kringles and Coffee-Cakes
What a delicious way to start the day!  We make our own, with layers of flaky, sweet, buttery, Danish dough.
Available in a variety of fillings such as, Cherry, pecan, and strawberry-are just some of the wonderful Kringles and Coffee-Cakes we make. Instead of donuts-serve one of these!
---

Dundee IL Muffins
For a quick pick-me-up, or breakfast on the go-try one of these! We make blueberry and cranberry muffins and are always adding new flavors! Cinnamon Chip, Struesel-topped Blueberry, Lemon Poppy Seed and others. Ask what we have available today!
Stop by on Fridays for our "Muffin Special" and save!
---

Dundee IL Danish Sweet Rolls, Donuts and German Pretzel Rolls
Our sweet rolls are hand-made, using a 3-day process. Layers of scrumptious sweet dough, available in a variety of fruit and nut fillings. It takes time, but is it worth it!
Our raised donuts and old-fashion cake donuts are all hand-made. Our chocolate iced cake donuts are known all over! For a real treat—you have to get our Soft Bavarian Style German Pretzel Rolls.
These little rolls are excellent for snacks, mini sandwiches, and with cheese – but come early-they go fast!